WebRTC FAQ & INFO
Out of the global population of 7 billion people, 3.2 billion are connected to the Internet. Smartphone and tablet usage is dramatically increasing due to the fact that you can now do almost anything you want by using your smartphone devices. Inevitably, the need for better communication is emerging and that is where WebRTC comes in.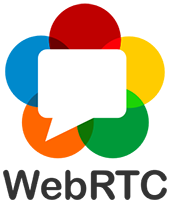 WebRTC – which stands for Web Real Time Communication – is an open standard for embedding real time multimedia communications capabilities, such as video chat, directly into a web browser. The open standard framework eliminates the necessity for client software, plugins and downloads. The WebRTC effort is being standardized on an API level at the W3C and at the protocol level at the IETF.
WebRTC is a work in progress with advanced implementations in the Chrome and Firefox browsers. It is supported by Google Chrome, Mozilla Firefox and Opera. The reason for creating WebRTC is to attack privacy issues that arise when exposing local capabilities and local streams.
With WebRTC-based software applications, companies can have the opportunity to transform their communications by ensuring reliable and secure enterprise-class communications. It can improve companys' online meetings, video collaborations and much more.
Disruptive Analysis suggest that by 2018, WebRTC individual users will reach to 1 billion and WebRTC enabled PCs smartphones and tablets will reach 4.7 billion.
Frequently asked questions about WebRTC and much more are all covered in this WebRTC FAQ.